Visiting Scholars and Researchers
UC provides opportunities for faculty, junior faculty and advanced graduate candidates to collaborate with UC faculty, conduct research, and further their academic and professional development.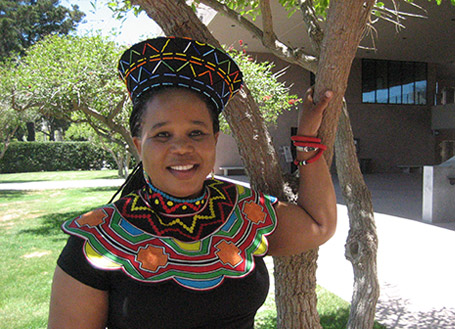 Eligibility and Fees
The Visiting Scholar/Researcher program is right for you if you are a faculty member or an advanced graduate student seeking to conduct short-term independent research or participate in research collaborations with UC faculty. Studies may range from three weeks to six months.
You will not receive a transcript, be an enrolled student or be eligible for UC student housing or student services. Post-doctoral appointees (paid researchers who have not yet held a teaching position) are not eligible.
UCEAP will pay campuswide visitor fees and the fee for issuance of the DS-2019.  You will receive library access through the host department but access to office, lab or studio space may or may not be available. Be prepared to pay for non-campuswide visitor fees, visa application fees, SEVIS fees, travel, living expenses and health insurance.
Secure an invitation
When contacting UC faculty members to request an invitation, include the following:
Statement of purpose specific to the proposed research
Résumé/CV
Invitations must be in writing (letter or email). UC faculty and departmental contact information is available at each UC campus website. See also the UC Online Directory.
Create your UCEAP account and submit documents
Establish a login ID and password to submit your contact information and required documents. If you cannot complete the entire application in one sitting, save your information before exiting the website and complete the application at a later time.
Prepare and save documents as .jpg, .png and .pdf files before your start the application.
Invitation from a UC faculty member or department
Résumé/CV
Proof of English-language proficiency
Personal information page of your passport
Proof of funding (which may include any combination of the following):

copy of your award/scholarship letter
bank letter or statement in your name
Include translations if documents are not in English.

If you experience technical difficulties, contact the ReciprocityHelpDesk.
Visiting Scholar Timeline

Duration of the short-term visiting scholar stay at UC

Three weeks to six months

Secure an invitation from a UC faculty and department

Four to six months prior to the visit

Request issue of the DS-2019 by the host UC

Allow six to eight weeks

Apply for the J-1 visa

Allow six to eight weeks
Review the estimated living expenses required by each UC campus for the issue of the DS-2019 certificate of eligibility. Amounts are subject to change by the UC campus and are estimates only. Travel expenses are not included. Actual expenses may vary depending on your lifestyle and extra activities.
2023-2024 Campus-Required Minimum Monthly Living Expenses
| UC Campus | Single | With Spouse | With Spouse and 1 Child | With Spouse and 2 Children |
| --- | --- | --- | --- | --- |
| Berkeley | $2,000 | $2,600 | $3,000 | $3,400 |
| Davis* | $2,000 | $2,600 | $2,900 | $3,200 |
| Irvine | $2,000 | $2,500 | $3,000 | $3,500 |
| Los Angeles | $2,247 | $2,747 | $2,969 | $3,192 |
| Merced* | $1,800 | $2,300 | $2,600 | $2,900 |
| Riverside* | $1,700 | $2,200 | $2,400 | $2,600 |
| San Diego* | $2,400 | $3,200 | $3,600 | $4,000 |
| San Francisco | $2,700 | $3,325 | $3,700 | $4,075 |
| Santa Barbara | $2,800 | $3,300 | $3,800 | $4,300 |
| Santa Cruz* | $2,200 | $3,400 | $4,100 | $4,800 |
*UC Davis, UC Merced, UC Riverside, UC San Diego, and UC Santa Cruz amounts include the cost of UC health insurance.
Information on obtaining a J-1 Visa
Health insurance is mandatory for visitors to UC. The US Department of State requires all J-1 visitors and their J-2 dependent family members to have health insurance coverage with the following minimum benefits throughout their stay:
Medical benefits of at least $100,000 per accident or illness
Repatriation of remains in the amount of $25,000
Medical evacuation expenses to the visitor's home country in the amount of $50,000
Deductible not to exceed $500 per accident or illness
An insurance policy secured to meet the benefits requirements must be underwritten by an insurance corporation with an A.M. Best rating of "A-" or above, an Insurance Solvency International, Ltd. (ISI) rating of "A-I" or above, a Standard and Poor's Claims Paying Ability rating of "A-" or above, or a Weiss Research, Inc. rating of B+ or above. Alternatively, visitors may hold a policy that is backed by the full faith and credit of the government of the exchange visitor's home country.
Campus Health Insurance Requirements
Housing Resources

UC Berkeley
UC Davis
UC Irvine
UC Los Angeles
UC Merced
UC Riverside
UC San Diego
UC San Francisco
UC Santa Barbara
UC Santa Cruz